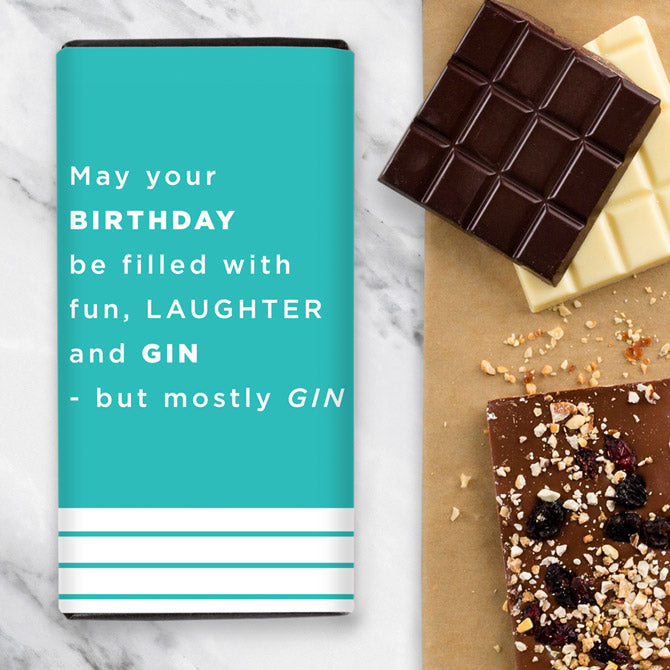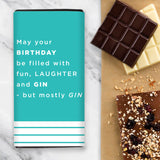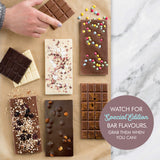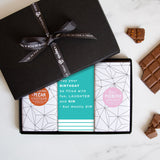 Happy Birthday Gin Lover Chocolate Gift
£7.50 GBP
A Chocolate Gift to say Happy Birthday Gin Lover
Looking for a gift that says Happy Birthday to a Gin Lover AND spoils them with scrumptious artisan chocolate?  Look no further!  This beautifully illustrated bar is the perfect chocolate gift to make their day and to also make them laugh. This design can be personalised with a message on the back to make it even more thoughtful.
Go Large

If you are looking for a larger chocolate gift why not Go Large and make it a Chocolate Gift Set containing three bars of delectable artisan chocolate (more for sharing!) Paired with a sleek black box tied with a ribbon, mix it up and choose multiple bars from our range of scrumptious flavours. 

Shop Local

Quirky has paired up with the hugely talented Northamptonshire-based company Megan Claire.  Megan is a designer with a distinctive style that aims to stand out from the crowd. Each design is drawn by Megan herself using beautiful foil finishes, hand drawn illustrations and clever typography.

Not only is the chocolate designed in the UK, it is also made here too! Our artisan chocolate is handmade in Edinburgh by our in-house chocolatiers who are constantly striving for perfection with every square. We are proud to use 'Cocoa Horizons' sustainably-sourced chocolate and our bars are sustainably wrapped in plastic-free packaging.
Fast Letterbox-Friendly Delivery
UK Delivery 
Send directly to recipient or to yourself
Chocolate Bars and Gift Sets fit through the letterbox for easy delivery 
Orders dispatched everyday from Monday - Friday
Collaboration Chocolate: Designed by Megan Claire
Product Code: QWCB0201 Details: Chocolate Bar weight: 100g. Chocolate Box Size: 8.5cm x 16.5cm. The Chocolate Gift Set Contains 3 x 100g bars and is 22cm x 16.5 cm. Both are letter box friendly chocolate gifts and are a great way to send chocolates by post. Available in a wide variety of flavours. Full Ingredient List.
Related products